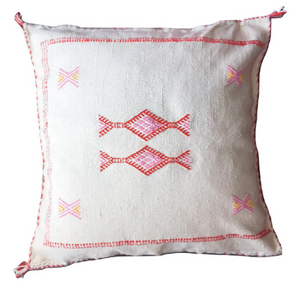 Brought to you by Maison Morocco artisans , the vintage Moroccan cushion dubbed the Sabra will truly transform your living space with exotic flair you always wanted.

Our cushions our handwoven in Morocco by our expert artisans using a mix of cotton, wool, and silk.

Zipper on the side of the pillow.

Each cushion is handwoven , so you will come across imperfections that make our cushions more beautiful , each cushion is unique, no two are the same , so whichever one you choose is truly special and meant only for you.

These wonderful Sabra cushions are simply beautiful. Woven with a combination of cotton, wool, and silk , they will add a beautiful touch of colours and textures. 

Size
18 x 18 - Approximately , due to the cushion being handmade, these measurements may be slightly off

Care Instructions:
- Vegetal dyes. Avoid Contact with water.
- Dry clean only.